The Lexus app is a game-changer for managing your Lexus in Macon. With this app, you can easily schedule repair and maintenance appointments, remotely start your vehicle, and locate your car in even the largest of parking lots. Plus, the app offers a host of other convenient features such as real-time vehicle health updates, access to owner's manuals, and the ability to connect with a Lexus Technology Specialist for personalized assistance. Say goodbye to the hassle of traditional car ownership and hello to the ease and convenience of the Lexus app.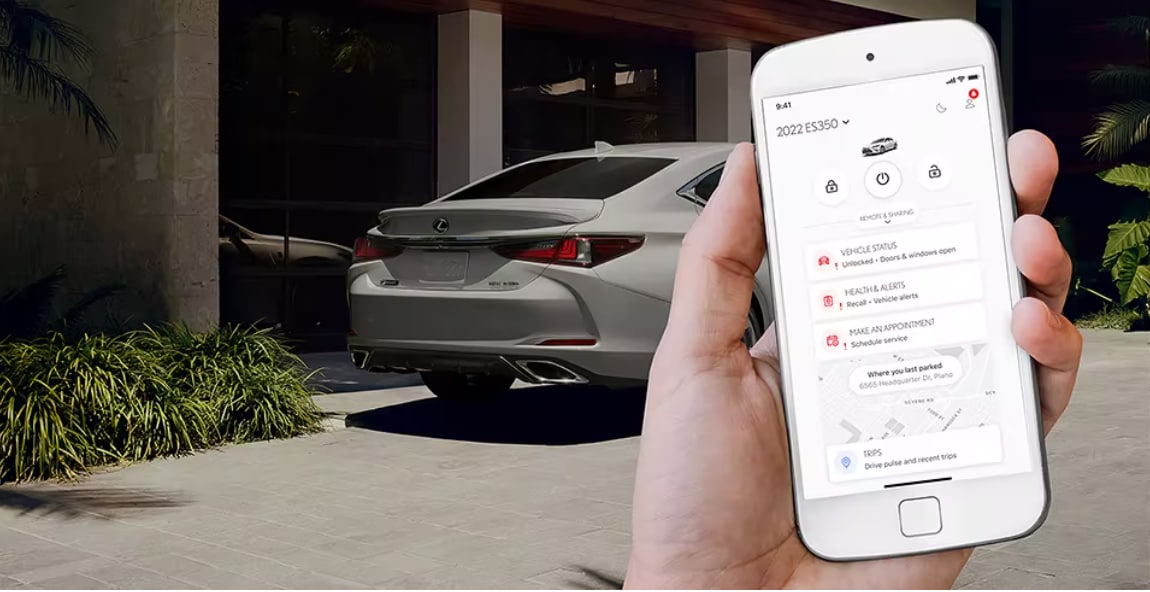 The Lexus app streamlines your experience with your vehicle by allowing you to control various functions remotely. With your smartphone or smartwatch, you can start the engine, adjust the climate control, and check fuel levels among other activities.
The app also supports voice controls for Alexa, Google, and Siri. Additionally, you can remotely check the doors, windows, moonroof, trunk, and hood of your Lexus, and access information such as the fuel level, odometer reading, and distance traveled.
You can even set up custom notifications. With Remote Connect* feature, you can start your car from a remote location, making it convenient for chilly mornings or hot afternoons in Perry. The engine will run for up to ten minutes or until you manually turn it off from within the vehicle or remotely.
Using the Lexus App, you are able to: 
    You can start your vehicle from a distance to either warm it up or cool it down, depending on the temperature in Warner Robins.

    To locate your vehicle in a parking garage, locate the Lexus app's map and use it.

    Remotely lock or unlock doors, check on the moonroof and trunk, and even configure custom alerts with this feature.

    Get reminders and even schedule maintenance appointments right through the app.

·

   

Keep tabs on your Lexus's health and communicate this information directly to the dealership serving your area.
With the Lexus app, you can remotely check and lock the doors of your car, saving you from having to go outside in unfavorable weather conditions. Plus, if you unlock your Lexus using the app, the doors will automatically re-lock themselves after 30 seconds if no other action is taken.
Using the Vehicle Finder feature on the app, you can easily locate your car in a crowded parking lot by accessing the map application.
Lexus Enform Remote provides added peace of mind when someone else is driving your car. The system sends quick notifications to alert you if the car exceeds set limits on speed, distance traveled, engine run time, or location, ensuring that you stay informed and in control.
Lexus App FAQs
 How do I download the Lexus app on my device?
 As you would download any app, just visit the App store on your phone and download the Lexus App on Apple or Google Play Store on for your Android device.
 Is it compatible with mobile devices made by Apple or Android?
 Whether you use a smartphone produced by Apple® or AndroidTM, you are able to download the Lexus software from either platform.
 I am not tech savvy. Where can I get instructions on how to use the app in the Warner Robins area? 
 Visit Butler Lexus today to learn how to make the most of your Lexus ownership with the Lexus app. Our knowledgeable staff can guide you through setup on your smartphone, saving you time and providing safety conveniences like finding and locking your car, and monitoring borrowed vehicles for added peace of mind.